Owners and managers of businesses that manufacture or distribute products are under constant pressure to improve profits through better efficiency in production or by eliminating preventable losses. When looked at in a holistic, strategic way, business security camera systems can be an important tool for achieving both of these bottom-line impacting objectives
From a loss prevention perspective, security solutions that include key card access systems, door intercom video, and high resolution digital video surveillance can not only protect your premises from criminal activity, it can also protect you against accidents that aren't necessarily accidental. Law suits stemming from false insurance and liability claims can be a drain both in time and energy as well as the legal expenses incurred. Through better post-event video forensics, you have the ability to document and report any activities that seem suspicious or out of place
From an efficiency enhancement standpoint, many business managers utilize digital video systems to monitor work flow and production line activity to understand better where improvements could be made that would lead to higher output, safer operations or improved quality. Warehouse managers will get a better understanding about whether their product location bays or truck loading ramps are operating at their desired capabilities. Most of all, you will have a bird's eye view of your business that you just can't get by walking the floors.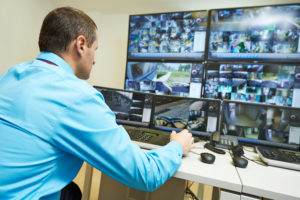 Some of the benefits of a customized, business security camera system are:
Slip and fall detection to minimize fraudulent workman's compensation claims
Employee productivity improvements
Fire and Hazardous Material safety
OSHA compliance
Warehouse pick and pack activities for improving efficiency
Production line surveillance and reporting
Video surveillance of fleet yards, warehouses, gate entries, property fences and guard houses
Vehicle traffic flows and potential congestion
Door intercom video and key card access systems to control ingress and egress
Business security camera systems for video forensic analysis