Facilities that provide both medical and non-medical residential services to the elderly face many of the same security issues that hospitals and health clinics face with some unique twists. Since most of these businesses promise to provide housing for the duration of life, the longevity of their patients is much longer and probably reflects what many apartment complexes deal with.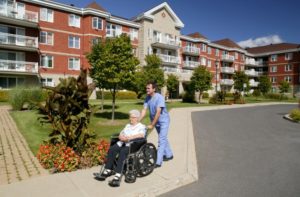 With the aging of one of the largest generational populations in history, the Baby-boomers, there will likely be an explosion of residences built to accommodate the growth in demand. Managers of these facilities understand that their integrated security solution can provide comfort and safety to their residents as well as the security of the property itself. However, that same security solution also offers a competitive advantage.
As the children of this population segment seek living arrangements for their aging parents, they will look to those facilities that have made the proper security arrangements to know that their parents will be safe and cared for adequately. The extent to which an elderly care facility, whether independent living, assisted living or a nursing home, adopts a strong security responsibility, will likely present a necessary and differentiating competitive edge, luring more potential residents and commanding a higher price.
Some of the benefits of a customized, business security camera system are:
Minimizing the potential for fraudulent or mistaken claims from residents of mistreatment by staff
Monitoring employee theft, both of resident's property but also of drugs and medications
Video display of any contractors brought in to refurbish apartments that have become vacant
Door intercom video and key card access systems to control ingress and egress, especially during off hours or at night
Room intercom systems for resident's emergencies
Video surveillance of dumpsters to prevent illegal dumping or dumpster diving.
Monitoring special use areas such as swimming pools, exercise rooms, rehab centers, chapels or activity rooms
Quickly locating residents who have fallen or in some other way become incapacitated
Understanding resident traffic flows and potential congestion particularly at meal times
Overseeing parking facilities and verifying automobile license plates
Generating real-time reports for potential residents